Can't Attend the Session?
Certified Account Executive College: October
Day 1: A Complete Guide to Account Service
The best basic course in the industry for your very valuable account service staff, this seminar provides methods for improving account service and retaining the accounts that are so important to long-term agency viability and growth. This seminar offers a complete guide for training your staff and encouraging your clients to be more open to professional agency service.
Day 1 Agenda:
The account service planning process: From the first piece of research, through the plan, execution and analysis
The miracle of research: Clients belong to those who do their homework
Value-added account service: Strategically linking your agency to the client
Organizing the work on a daily basis
Profitable estimating
50 things you need to know to keep your clients happy
The billing process: Progress, advance, retainer, incentive, market rate—all covered in detail
Account executives and the new business process… and much more!
Day 2: Account Planning and Strategic Planning for Smaller Agencies
Why is the work at TBWA\Chiat\Day, Crispin Porter + Bogusky, and other hot agencies so good? It's simple. They create intuitively using Account Planning. Now your agency can do this, too!
The keystone of success for a number of "hot agencies" over the past decade, integrated account planning will be an absolute necessity for your smaller agency's survival. This fact-filled seminar provides a step-by-step plan for training your account service people to use account planning to service—and grow—accounts. Includes a special section on conducting and utilizing marketing research and writing strategic marketing and marketing communications plans to add "kick" to your planning process.
Day 2 Agenda:
What is account planning?

Why account planning is critical to your agency's creative success

A step-by-step planning process you can implement immediately in your agency

Turning account executives into account planners in a smaller agency

How smaller agencies can leverage inexpensive research techniques

Integrating strategic market planning into your client relationships

An account planning/strategic marketing case study

Turning it all into an insightful creative brief… and much more!
SPECIAL SEGMENT
Business & Brand Strategies Alignment: the Pathway to Elevating the Conversation with Current and Potential Clients
Learn the importance and advantages of aligning brand strategy with business strategy and immerse your agency more deeply into your clients' organizations.

Presented by The Brand Establishment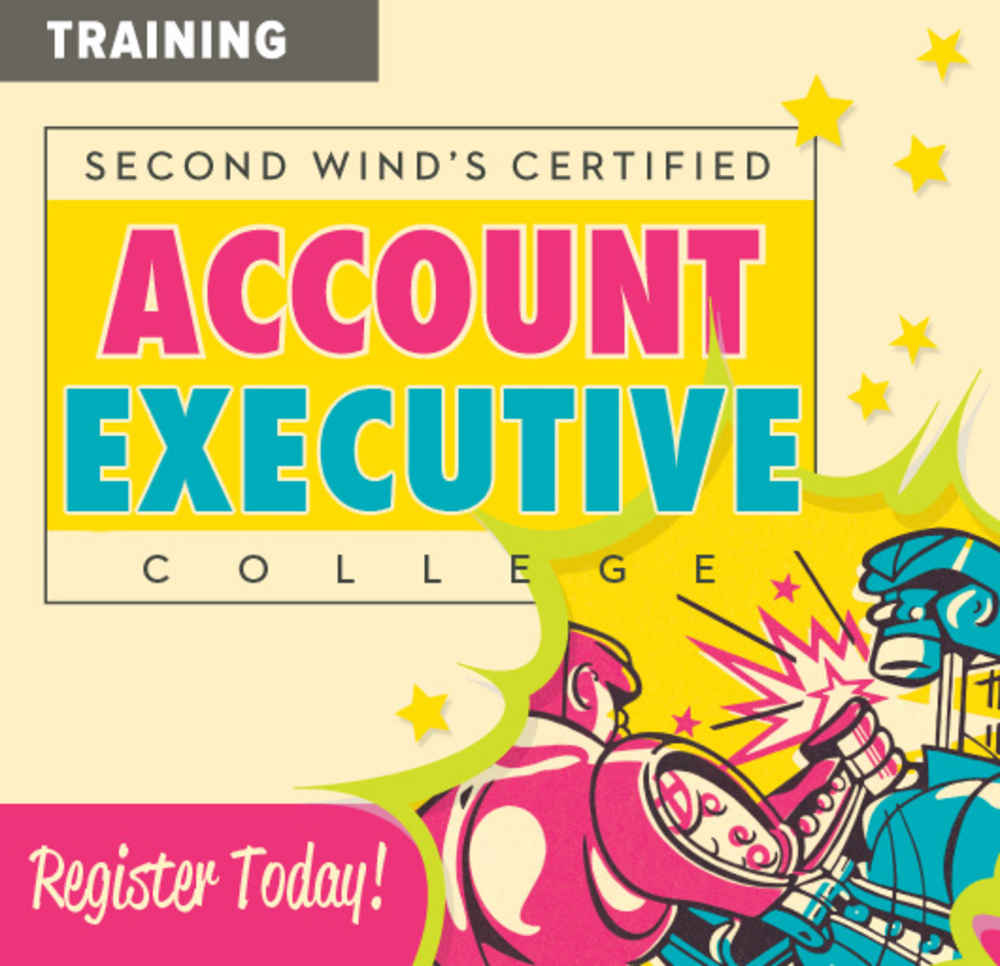 Seminar Details
October 17-18, 2017
Day 1 - 8:00 am to 4:30 pm
Day 2 - 8:00 am to 3:00 pm
Chicago, IL
The Gleacher Center
Learn more about Certification.
For Agency Owners, Account Supervisors, Account Executives and Account Coordinators
Seminar Fee
Second Wind Members
$1,150 per person