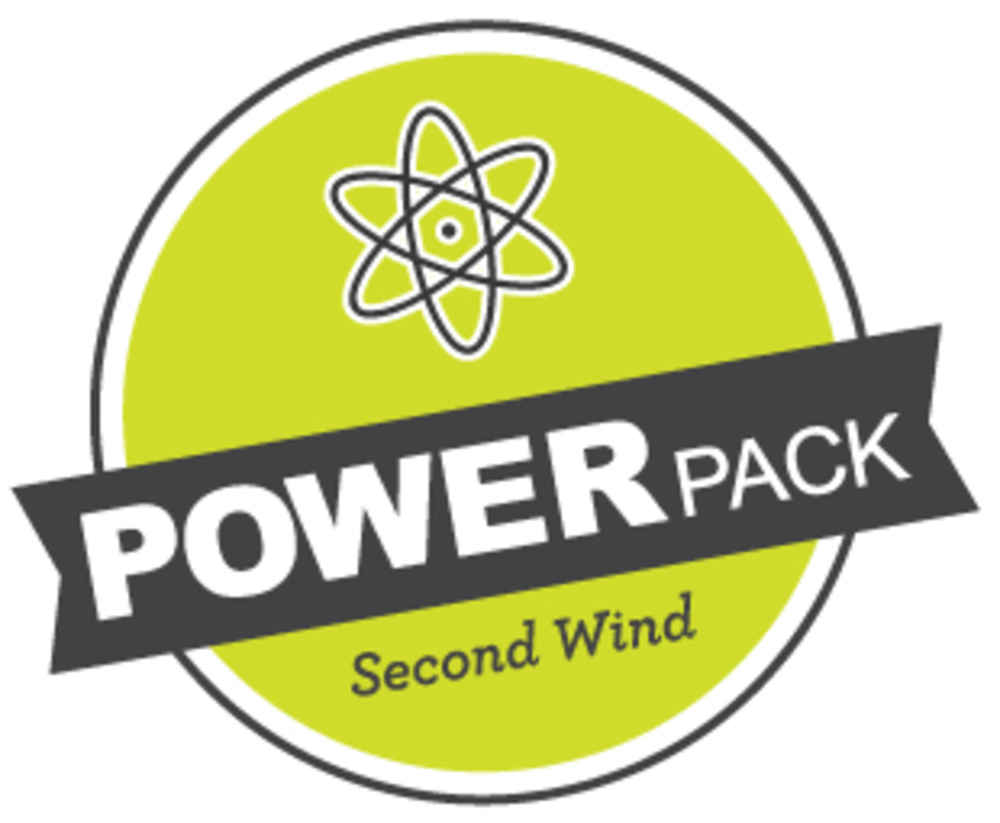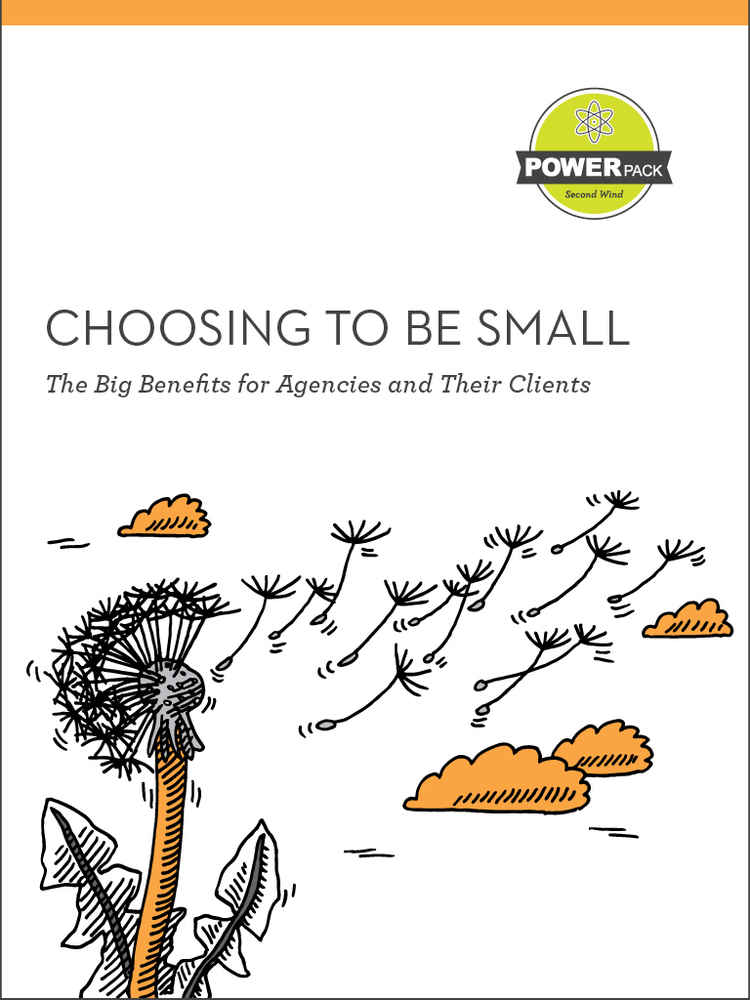 34 pages
PDF
Delivered via email
$29.99
Choosing to Be Small
The Big Benefits for Agencies and Their Clients
Smaller agencies really do give clients more: more attention, more time, more personal service and certainly a lot more value for the money! Certainly some clients may be lured in by the glamour of working with "Big Agency X," but that glamour may quickly wear thin in the face of less time and attention to their account.
Why should a small company or a growing mid-market firm entertain the thought of working with a small ad agency? We've put together this Second Wind Agency Powerpack to help you answer those age-old client questions, and address the value-added difference that working with a smaller agency can bring to your clients.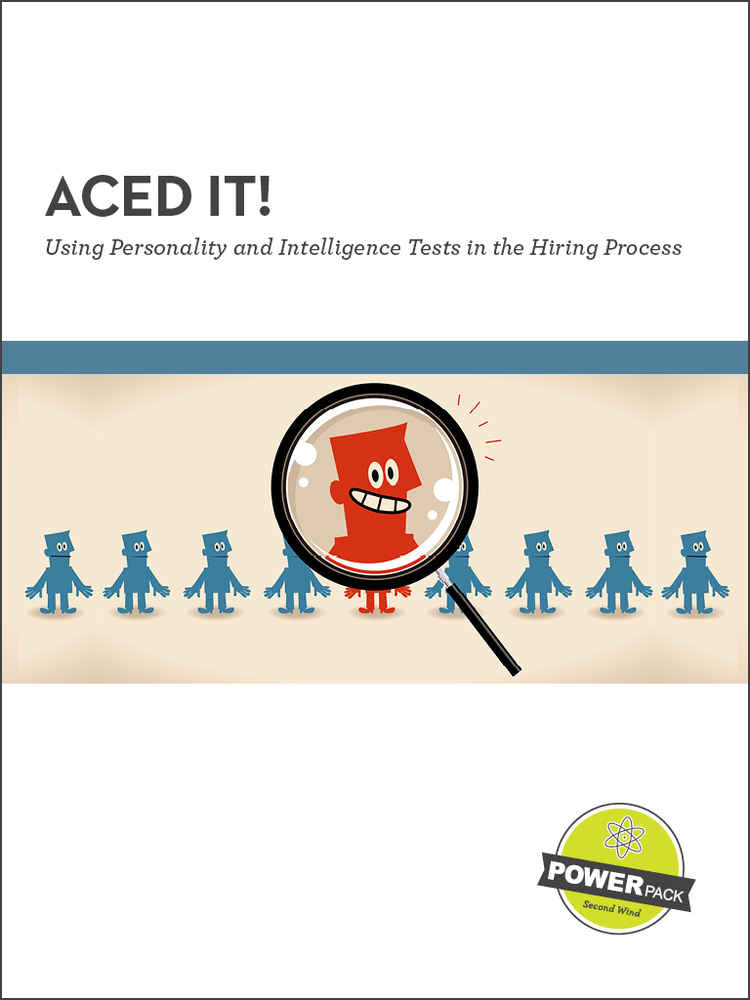 19 pages
PDF
Delivered via email
$29.99
Aced It!
Using Personality and Intelligence Tests in the Hiring Process
At Second Wind, we advocate testing potential new hires to winnow the wheat from the chaff. Intelligence and personality testing help to better match candidates to positions; skills testing may also be important. Testing can eliminate ill-suited candidates and reveal unsuspected "gems" during the hiring process.
In this Powerpack we'll show you how structured, consistent hiring procedures will greatly improve your hiring successes and help you grow your agency to new heights.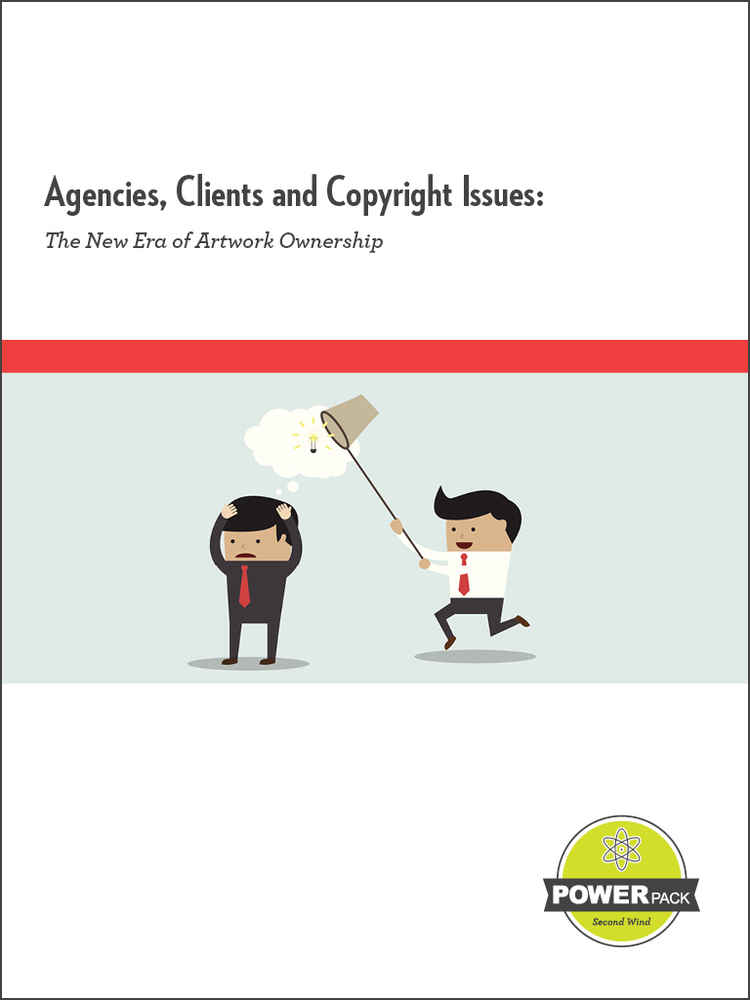 26 pages
PDF
Delivered via email
$29.99
Agencies, Clients and Copyright Issues
The New Era of Artwork Ownership
Years ago... copyright was conceived as a way to protect the creators of artwork allowing authors to retain the rights to all publication, reproduction, performance and display of their works, thereby profiting from those. But copyright law is complex, and many agency-client relationships fall afoul over ownership issues.

In this Powerpack we'll show you how to explain ownership to clients, address copyright in contracts and project agreements, cover rights tranfer in initial proejct estimates and how to cover yourself when working with freelancers.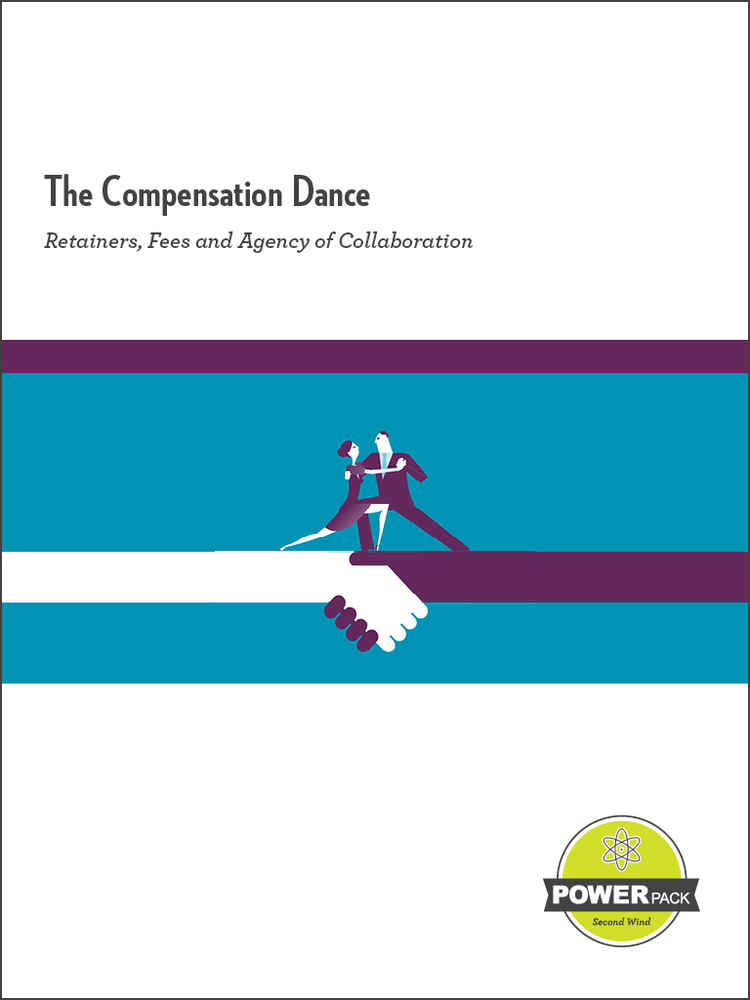 23 pages
PDF
Delivered via email
$29.99
The Compensation Dance
Retainers, Fees and Agency of Collaboration
Much like legal and accounting firms, agencies now bill much of their time by the hour, or by the project. But there are other methods of agency compensa­tion that offer benefits to clients, while ensuring their agencies can have some control over cash flow and some ability to project income.

We have examined agency compensation practices, and offer this POWERpack as an overview on how agencies can negotiate more client- and agency-friendly compensation arrangements... including a new approach, agency of collaboration, a modern take on the traditional agency-of-record status.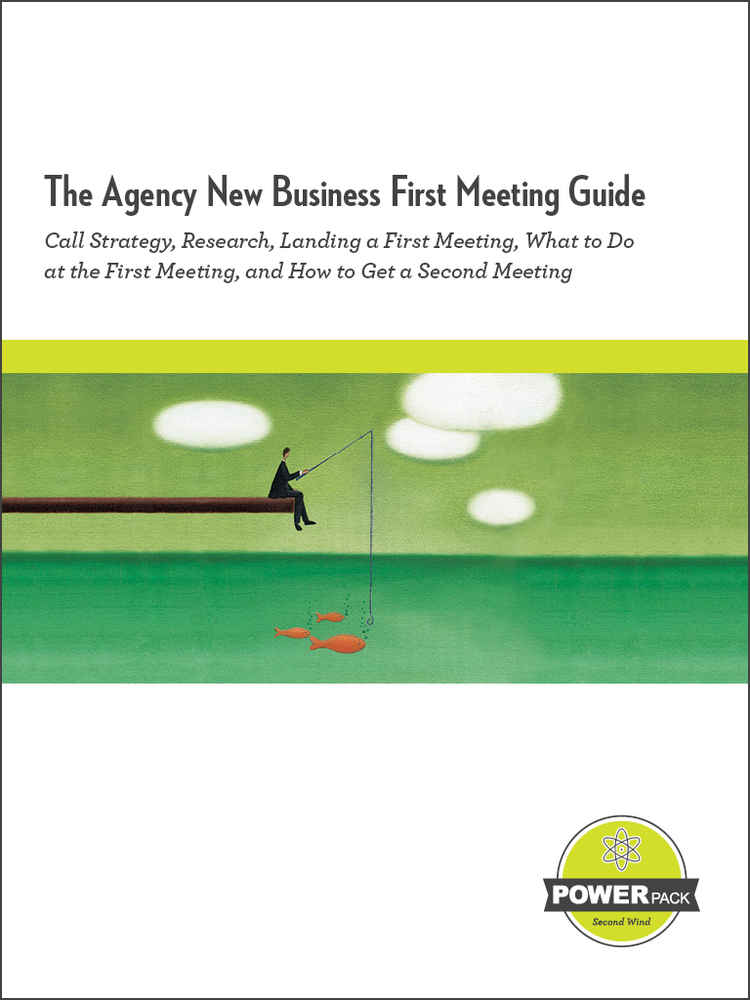 39 pages
PDF
Delivered via email
$29.99
The Agency New Business First Meeting Guide
Call Strategy, Research, Landing a First Meeting, What to Do at the First Meeting, and How to Get a Second Meeting
Today, agencies must build reputation in new ways, so prospects take note when you call. It is critical for agency people to know as much as they can about the company or brand they are pitching, and use that knowledge to land a meeting. By offering smart thinking and potential solutions, you will connect with prospects and they will immediately understand you are serious about lifting up their business. Then, your agency can focus on the end goal of the first meeting—to get a second meeting.
A steady stream of new business is critical to agency survival, and to land new clients, you must get that first, face-to-face meeting. This Power Pack is a capsule view of the best practices for winning a first meeting, then pushing for ward until you land the account.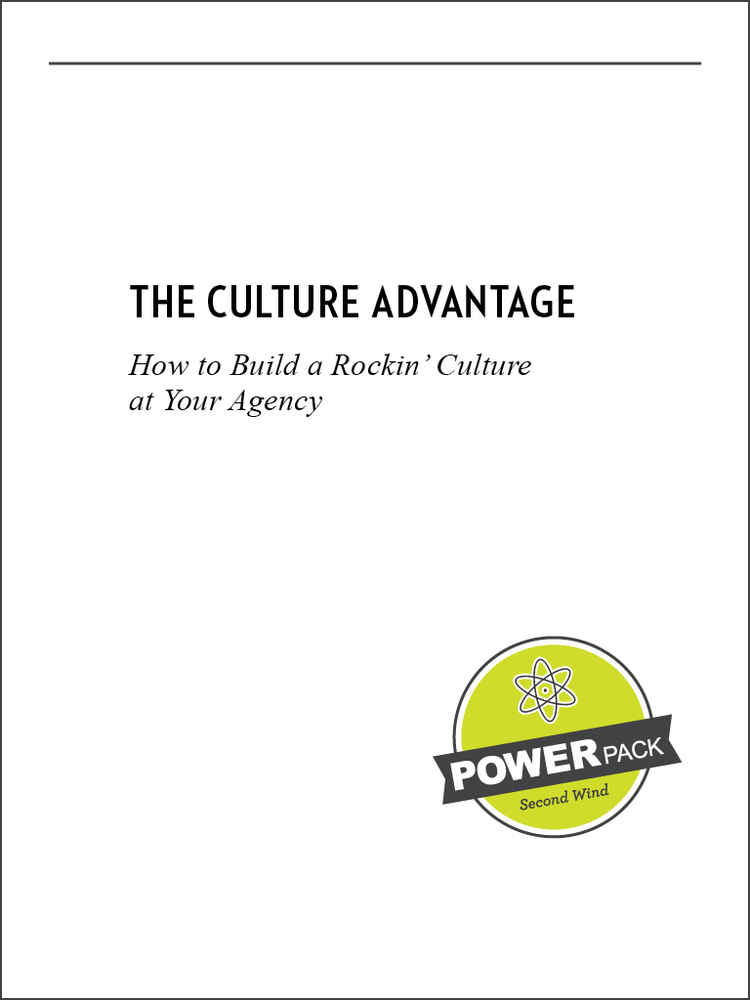 53 pages
PDF
Delivered via email
$29.99
The Culture Advantage
How to Build a Rockin' Culture at Your Agency
I think the next generation of folks coming into agencies has spurred renewed interest in agency culture. This "Millennial" generation has made it very clear that they want much more from their agency than simply a job. Most smart agency principals are now working to improve various employee-sensitive cultural factors, including décor, work shifting, socializing, financial transparency and workplace pride, to name a few.
This Second Wind POWERpack will enable you to move forward, becoming an agency that is rich in culture, employee pride and loyalty—a business ready to move into the future with renewed energy.